Jeff Aronson
The Land Rover Writer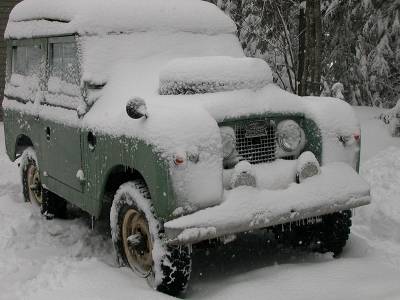 Thanks to a surprise gift package at this year's Maine Winter Romp, I found myself an honorary member of the SNHLR. In 16 years of writing about Land Rovers in the US and the UK, it's the first honor of this sort! In case you're wondering why Tom Lynch would embarrass the club this way, here's how I started my life with Land Rovers.
My Land Rover passion arose from childhood experiences. My father dabbled in the earliest imported foreign cars, such as our Renault 4CV, and quickly moved onto Buick convertibles and station wagons. My English born-and-raised mother kept receiving newspapers and magazine from her family in the UK. Nothing intrigued me more than those smaller British sports cars and sedans.
Whether as a student at the University of Vermont, or later as a staff/faculty member of UVM, I continued to believe that British sports cars, all very used, could also provide reliable transportation. Two colleagues at UVM told me of the then-new Rovers North nearby and extolled its virtues in keeping their Land Rovers healthy and strong. The powerful lure of the Land Rover tugged at my heart, but I could no see myself having a second car.
17 years later, I took a position with New Hampshire Public Television in Durham and moved to Maine. There, I treated myself to another used Triumph Spitfire as my daily transportation. Three years later I decided to go out on my own. My new work would take me all over Northern New England; I would absolutely, positively have to get there in any weather and in all seasons. A second car now made a lot of sense, and I finally saw the chance to search for a Land Rover.
One work trip in 1990 took me through Marlborough, MH, where I passed Cheshire Foreign Motors. There Dick Boisvert advertised that he fully refurbish and upgrade Land Rovers. His appearance belied his claim of dealing strictly with the carriage trade but he also had a small number of Land Rovers for sale on consignment from customers. I pulled over in my Spitfire to stare at a dirty, white Series II-A with a safari top. He wanted a whopping $4,000 for it. Enthralled by its shape I asked for a test drive. It was like pulling teeth; "I don't waste my time with test drives," he claimed. I persevered and he agreed reluctantly. I saw why when we discovered the battery was dead and that the brakes were mediocre. He drove it for a while and finally, I wrestled him away from the driver's seat. We went only a short distance but I knew a II-A was the right car for me.
I told him I'd be back in a week to put a deposit down on the car, and next week I returned to his shop with the money. I noticed that the safari top had become a hardtop. He told me how he had sold off one top and swapped it with the other. "What's the new price," I asked? "The same," he replied. I showed him the deposit and said "Goodbye."
Shortly afterwards I found a Land Rover enthusiast in Lebanon, ME, who seemed to be a pre-internet source of information of Land Rovers for sale. This time, we took one of his old Land Rovers on a trip to Cape Cod to look at two different Land Rovers, a Series III [which turned out to have a rotten crossmember] and a Series II-A Bugeye, which looked great but too expensive. The trip did not source me a Land Rover, but the ride to Cape Cod from Maine in an absolute wreck of a Land Rover convinced me that no matter what Rover I found, they would keep going. If this car could make it round trip to the Cape, any Land Rover would make it.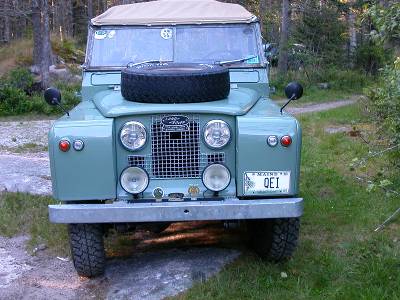 Within a month, a call came from Lebanon that he had another Rover to see, and it was on his farm. Sure enough, there sat a straight '66 Series II-A 88″ Station Wagon, in faded Sage Green with a safari top and jump seats. It had 111,000 miles on it, and driving it around the fields of the farm on a sunny day, it seemed perfect to me. The previous owner was the well-known Chris Komar, aka "The Terminator," a superb mechanic and off road driver. I could afford it [barely], gulped, and bought it. I named the car the "QE I" and own it to this day.
Three days later on a cold, rainy November day, I picked it up. Within ½ mile the wipers and parking lights failed to function. That's how I the location of the Land Rover's fuse box. Once on a paved road, I learned that 4 retread tires, each of a different brand, provided quirky handling. A virulent case of Buyer's Remorse flooded over me.
I summoned up my courage, ordered manuals and catalogues from Rovers North, added to my tool collection, and started using the car every day on 2 – 6 drives all over Maine, New Hampshire and Vermont and southern New England. I found myself putting 25 – 30,000 miles a year on the Rover. With Chris' mentoring I started participating in off road events.
Land Rover enthusiasts find each other as easily as rabbits. Meeting them gave me the confidence to begin the necessary maintenance and repairs. Long telephone calls to Rovers North gave me a lifeline to parts and advice. Brake jobs, tune ups, even a valve job on my own bolstered my knowledge of these extraordinary cars. The more I drove it and worked on it, the more I admired the engineering, the company's history, and the cultural impact of the Land Rover. As a professional historian and writer, I wanted to share my enthusiasm.
In 1993 I found myself working on an assignment in Peacham, VT, with my Rover's engine feeling weak on hills and jangling like Christmas bells. A call to Rovers North urged me to drive it slowly to their shop, crossing my fingers all the way. Removing the head I saw that you could wiggle the pistons in the cylinder. With a rebore, new pistons and rings, the car ran much better but my wallet felt much lighter. I needed extra income so I asked Mark Letorney for a job writing for their newspaper. He agreed to try me out, and a year later, I became the Editor of the Rovers North News, a part-time positions of my dreams.
The Rovers North News has grown from a newspaper into a magazine and circulation has increased from 5,000 to 31,000. I've met enthusiasts from Maine to Oregon, off roaded all over the country, and interviewed Land Rover executives at the Solihull factory. Now, thanks to the club's generosity, I look forward to meeting a lot more enthusiasts this year.